Originally Written and Posted at Epinions.com on 12/5/04 w/ Additional Edits.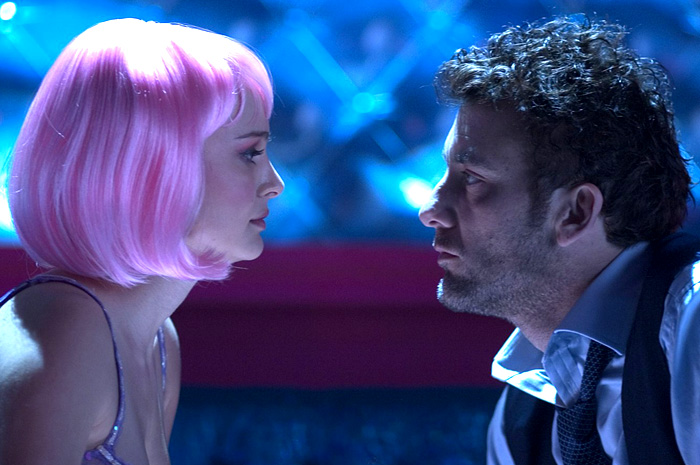 One of the most successful and prolific filmmakers since the 1960s, Mike Nichols has made some great movies like The Graduate, Working Girl, Silkwood, Carnal Knowledge and hits like Wolf and Primary Colors. Though Nichols is beloved by critics and moviegoers, the director has hit a slump in the few years as his 2000 film What Planet are You From? received the worst reviews of his career. Nichols took a break from features to direct plays and TV films for HBO to great reviews with Wit and in 2003, the Tony Kushner-based play for Angels in America which received enthusiastic reviews. In 2004, Nichols makes a return to the big screen with a provocative character study drama about love and relationships in the film entitled Closer.
Directed by Nichols based on the play by Patrick Marber, who also wrote the film's screenplay. Closer is a film that doesn't play to the typical formulas of romantic films, instead it is a return to the similar territory of sex and relationships at its most brutal that Nichols' old 1971 film Carnal Knowledge had. Set almost entirely in London, the movie is about four different people, two American women and two British men as they explore their own desires and temptations in love and sex. Starring Julia Roberts, Jude Law, Natalie Portman, and Clive Owen, the film might seem something sweet with a cast like this. Instead, it's a darker, hurtful film that doesn't play nice and it's not the kind of movie anyone wants to bring a date to.
It's a typical day in London as an obituary writer and aspiring author named Dan (Jude Law) runs into a young waitress/stripper named Alice (Natalie Portman) at a crosswalk in London. A cab hits Alice where she was slightly injured as Dan takes her to the hospital where sparks begins to happen. The two have a conversation where Dan takes her to a park where his mother had died. Time goes by as they become a couple where Alice is now a full-time waitress while Dan has just finished a book that is set to be published. Dan takes photos for a photographer named Anna (Julia Roberts) where she is in the middle of a divorce and Dan makes advances towards her. The two kisses but Anna intervenes since she knows Dan has a girlfriend. Alice arrives and suspects something was going on.
Then one night during a sex chat, Dan pretends to be a woman while going on an online chat with a British doctor named Larry (Clive Owen). The chat gets very extreme as Dan, who pretends to be Anna, wants Larry to meet her in an aquarium wearing a white jacket. Larry finally meets Anna but learned that Anna wasn't the person in the chat room as the two get to know each other as Anna is smitten with the rogue, charming Larry. Then a year goes by as Larry and Anna are married while Alice and Dan are having trouble in their relationship as Dan and Anna are rumored to have an affair. At an exhibit Anna made, Larry and Alice meet while Anna and Dan are flirting with each other. Claiming that he has to go on a business trip after the exhibit, Dan gets a cab for Alice and then goes back to the exhibit to flirt with Anna where Larry begins to suspect something.
Then one night as Larry returned home from a business trip, he learns that Anna was having an affair with Dan that had been going on for quite a long time since the night of the exhibit. Alice also learns about it from Dan as she leaves him. Heartbroken and angry, Larry goes to a strip club where he finds Alice where she plays mind games with him. In a room together, Larry demands to know what Alice's name is as she claims its Jane where Alice becomes a sadist in a game of sex. With a divorce for Anna and Larry finalizing, Dan and Anna are officially together until Dan learns that Anna met with Larry for the divorce signing that lead to blackmail. Dan confronts Larry only to learn about something that ruins the relationships for everyone involved as Dan sees Alice for the final time.
While Closer isn't a perfect film, it's still one of the strongest and more subversive efforts from a film studio and director Mike Nichols. Nichols provides a fluid yet momentum-building directing style where he lets the audience get to know the characters. With the story developing in its second and third act, we begin to see the ugliness of everyone involved with the feeling that none of the characters have some sort of resolve in the end. Instead, it's a film where you're not sure who is the innocent one and who was the one driving all of these games. Credit goes to Nichols for not pandering down to a formula where everyone gets happy in the end and instead goes for a human story thanks in large part to Patrick Marber's craftily-structured screenplay that also has wonderful theatrical feel from his own play. Though some might be upset with the cutting of Portman's nude scenes in the film, it doesn't seem necessary since what was shown is enough. If Neil LaBute directed it, he would've done the same thing though his approach of gender studies would be more brutal.
The movie is clearly not a typical Hollywood fare because of Nichols' directing. The script by Marber really has a sense of ambiguity and tension where the characters are trying to discover for themselves what's going on. Also, there's a sense of who is manipulating who in the film and the lines of reality and fantasy are also blurred, especially in the third and final act where the film has an ending where everything is left at a shock to see who was really telling the truth and who wasn't.
The film's masterfully presented technical achievements are spot-on thanks to some non-linear editing style from John Bloom and Antonia Van Drimmlen and the wonderful cinematography of Stephen Goldblatt, notably for his use of lights and colors in the interior scenes. Production designer Tim Hatley and art directors Hanah Mosely and Mark Raggett provide a great look to the film's London look, notably the strip club scenes with Portman and Owen along with Ann Roth's costume design on Portman's stripper costume. Even the sound work of Ivan Sharrock should be complemented for giving the film a distinct sound as if you're watching a theatrical play. Then there's the film's music that features a song that is opened and closed by Damien Rice along with cuts in the strip club scenes by the Prodigy and the Smiths that really sets a sense of intrigue and sadness for its characters.
The heart of the lies in the strong performances of its cast where all the actors refused to play likeable versions of themselves and just get to the point of how the characters should be played along with its complexities. Though Julia Roberts can often be considered to be an overrated and bland actress, this film is her best performance since her Oscar-winning performance in Steven Soderbergh's Erin Brockovich. Roberts is good at playing nice but this is her most mature performance to date where she plays a woman who seeks love but has the same temptations that many older women have. What is more amazing is that Roberts is now stripping down all of her previous likeable roles for something more challenging as Roberts is now getting ready to play an elder stateswoman instead of the Pretty Woman we come to know and love.
Jude Law is wonderful in his role as Dan with his sniveling, cocky attitude and sex appeal. Law brings an understated, restrained performance in the anguished and emotionally tortured Dan. Law also carries a brooding tone in the film's final act where he tries to understand what has happened in a scene with Owen. It's clearly Law at his finest. Clive Owen is the film's biggest standout with his rogue, innocent performance as Larry in the film's first act. Owen has a macho, idiotic sensibility that can be very funny and likeable but as the film begins to darken, we see Owen in a fit of rage where he seems to lose control. Owen has great chemistry with Roberts but in his scene with Natalie Portman, the complexity of heartbreak, anger, confusion, and desire is well balanced in a performance that is a true breakthrough for the British actor.
The film's best and most shocking performance clearly goes to Natalie Portman in what is probably the greatest role of her career. The troubled little girl of The Professional is no more as Portman plays probably the film's most intriguing role in the movie as Alice. Portman brings a sense of lovelorn innocence of the film's first act with her kooky charm and smile where we see why Jude Law falls in love with her. When she's heartbroken, we see the emotional desperation of her character as she is trying to find love but in all of the wrong places. Then when she returns to her world of stripping, Portman goes bare all by not just showing a lot of skin (except for the exposed breasts and other things that got cut) but she also showed a dark, sadistic side that is even more jaw-dropping as she plays games with Owen. Whereas 2003 was the year of her rival Scarlett Johansson who delivered two landmark roles in Lost in Translation and Girl with a Pearl Earring, Portman one-ups Johansson with this performance and her kooky one in Garden State by delivering a sense of beauty, angst, and innocence into a dangerous performance.
Though
Closer
isn't a perfect film because of its lack of likeable moments, it is still one of the best and more provocative efforts of the year thanks to Mike Nichols' uncompromisingly fluid direction. With credit going to Patrick Marber's script and the performances of Julia Roberts, Jude Law, and most notably Natalie Portman and Clive Owen,
Closer
is really an adult film that tries to study the behaviors of genders. Though it might not be original, especially compared to Nichols' earlier work and the recent films of Neil LaBute,
Closer
still works thanks to its story and character study. Though its subversive nature and dialogue might be shocking to a mainstream audience, its performances and director Mike Nichols ability as a storyteller will leave people talking after the movie.
Mike Nichols Films: (Who's Afraid of Virginia Woolf?) - (The Graduate) - (Catch-22) -
Carnal Knowledge
- (The Day of the Dolphin) - (The Fortune) - (Gilda Live) - (Silkwood) - (Heartburn) - (Biloxi Blues) -
Working Girl
-
Postcards from the Edge
- (Regarding Henry) - (Wolf (1994 film)) -
The Birdcage
- (Primary Colors) - (What Planet Are You From?) - (Wit) - (Angels in America) - (Charlie Wilson's War)
© thevoid99 2010